Conservation Paleobiology — Environmental Graphics
Client: The Museum of the Earth
Designer: Abbie Gepner
Content Developers: Gregory Dietl & Jaleigh Pier
October 2020 – January 2021
The main case from the exhibit displays specimens from different oyster reef conditions.
Conservation paleobiology is an emerging field that uses data from geohistorical records to inform modern-day conservation policy. The purpose of this exhibit was to introduce the visitors at the Museum of The Earth to this scientific discipline and illustrate its importance and potential using a commonly known example – the oyster.
A photograph of the exhibit space.
The introductory panel for the exhibit.
A closeup of the main set of oyster reef specimen panels.
Project Goals
Exhibit content and an original set of graphics had been developed, however, a stronger visual solution was needed – one that would more effectively communicate excitement about a new field, create a clear visual hierarchy of information, and be accessible to a variety of audiences.

Along with developing a visual identity and language that would achieve these goals, a custom set of illustrations and infographics to convey new information were also a key part of this project.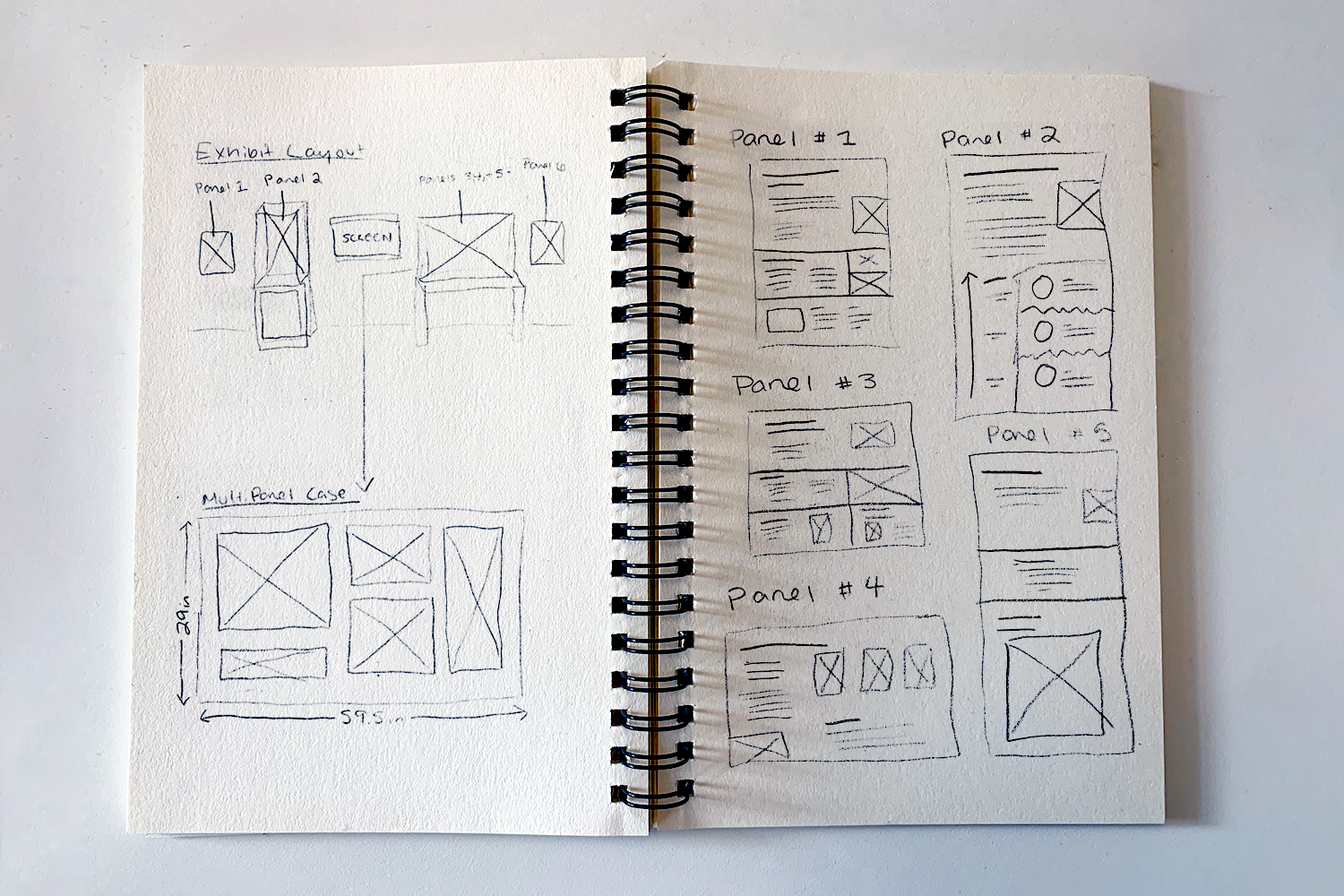 Sketches that illustrate panel arrangement as well as layout designs.
The exhibit's color palette was borrowed from unexpected colors found in oyster reefs.
Design Process

The layout of the exhibit design was established based on the initial design and the specimens that would be included and their respective cases. The new graphics were designed within these parameters. Inspiration for the primary colors used in the exhibit was based on the idea of showing an exciting and unexpected quality something people may mistake for familiar and mundane.

The vibrant palette also provides strong contrast and is an effective way of visually dividing large amounts of complex information.


Final Result
The visual identity for the exhibit not only creates a strong hierarchy for the complex content but retains a sense of visual appeal for museum visitors of all ages while communicating professionalism and credibility to visitors from the scientific community.

This balance was achieved through distinct sectional color blocking and legible and approachable typography. A visual information balance was also struck between anatomically correct stock images, alongside more simplified iconography and illustrations.



© Copyright Abbie Gepner, March 2021.