Green Heritage Fund — Branding
Green Heritage Fund Suriname
Designer – Abbie Gepner
December 2020 – April 2021
Brand package including stationery, business cards, and a branded cup design.
Green Heritage Fund is a non-profit that specializes in local conservation, wildlife rehabilitation, and environmental education. The group has a powerful impact on their community and beyond, but this impact was not reflected by a strong and established brand. We worked together to take existing visual elements, and turn them into a set of visual guidelines that were consistent with the values and personality of their brand. The assets included represent designs that are currently in production, as well as hypothetical extensions of the brand across other media to fully showcase it's potential.
Project Goals
As a small non-profit, a strong and consistent forward-facing visual identity has the power to bolster the success of fundraising and collaborative efforts that make much of the work they do possible. It was important that the visual identity not only be impactful and memorable in the way that the organization itself is, but to reflect the unique qualities of the brand by having a handmade quality that helps it to feel compassionate and friendly, to embody the approach they take in their rehabilitation and educational work.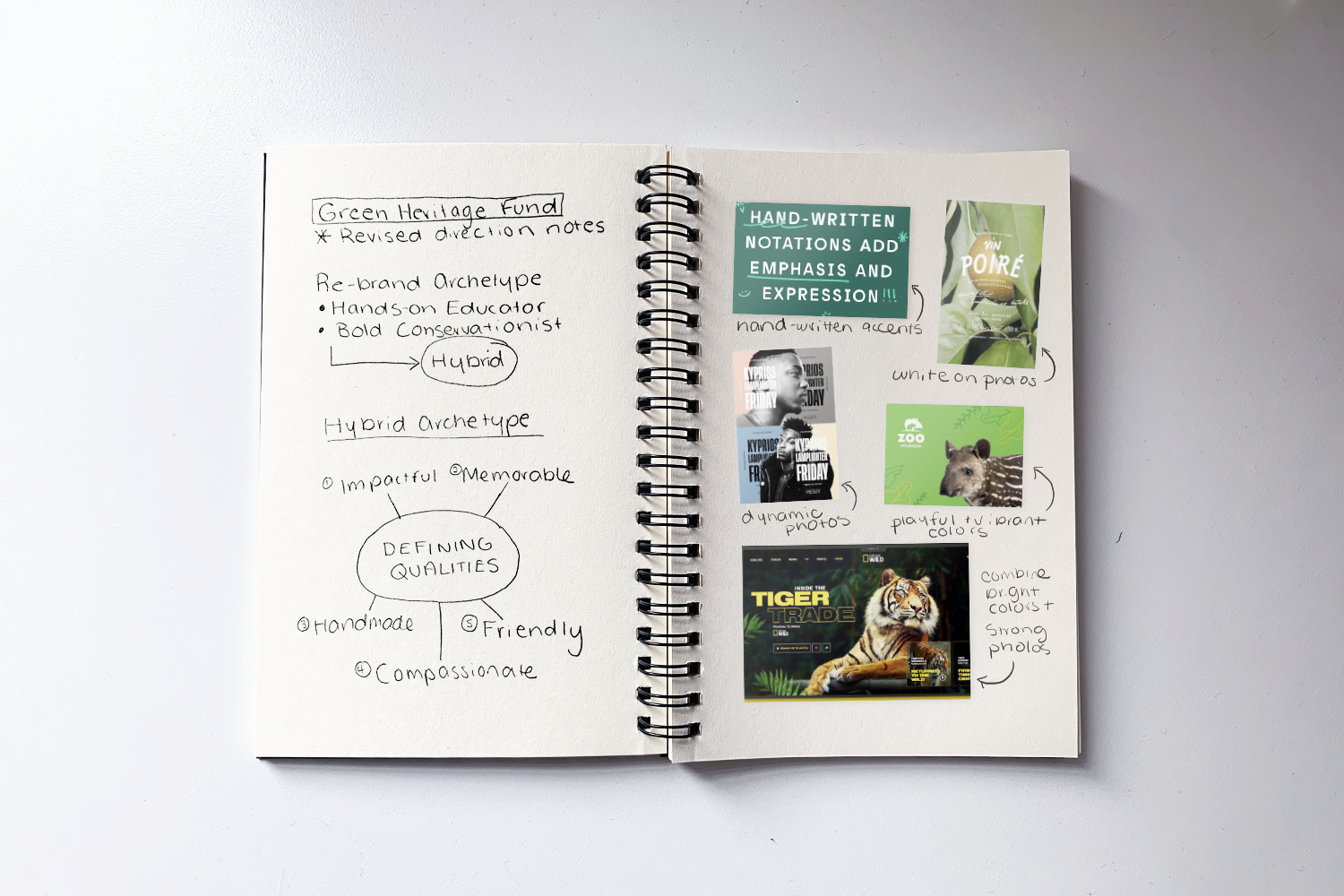 Summary of desired brand qualities and a reference collage that describes key desired visual components.
Optimizations were made to the brand's existing logotype.
Project Constraints
For a small non-profit, an impactful visual identity is crucial. It was important that the visual identity not only be impactful and memorable in the way that the organization itself and the people involved in it are but to reflect the personality of the brand by incorporating handmade qualities and typographic choices that help it to feel compassionate and friendly while remaining professional.

They had a logo that was recently been updated by another designer but needed some optimization. They wanted shades of their existing colors to be used in the palette but were open to the creation of an expanded color and typographic palette to more clearly communicate their mission. They also expressed an interest in new brand-strengthening elements that would create a consistent visual identity for the brand to use going forward on social media, publications, and an upcoming exhibit.


The new brand standards were included in a brand guide, written with a language and specificity geared towards designers and volunteers alike, viewable below.
The new identity incorporates existing visual elements to maintain recognition and allow for a manageable transition for the small organization while reinforcing them with elements that strengthen message and recognition.
Design Process

Spacing and letter distortion issues with their current logo were corrected. Since their logotype is not legible at small sizes, a modular logo system was created to solve this problem.

The typefaces chosen needed to compliment the logotype, communicate the voice of the brand, and to be accessible. The color's in the palette were tweaked & optimized, with the addition of a bright green that added a memorable and vibrant quality.

Hand-drawn qualities were incorporated into the identity, to embody the hand-made quality that the brand wanted to show in a style that is easily replicated so that creating new graphics would be acessibly for the non-profit's internal team.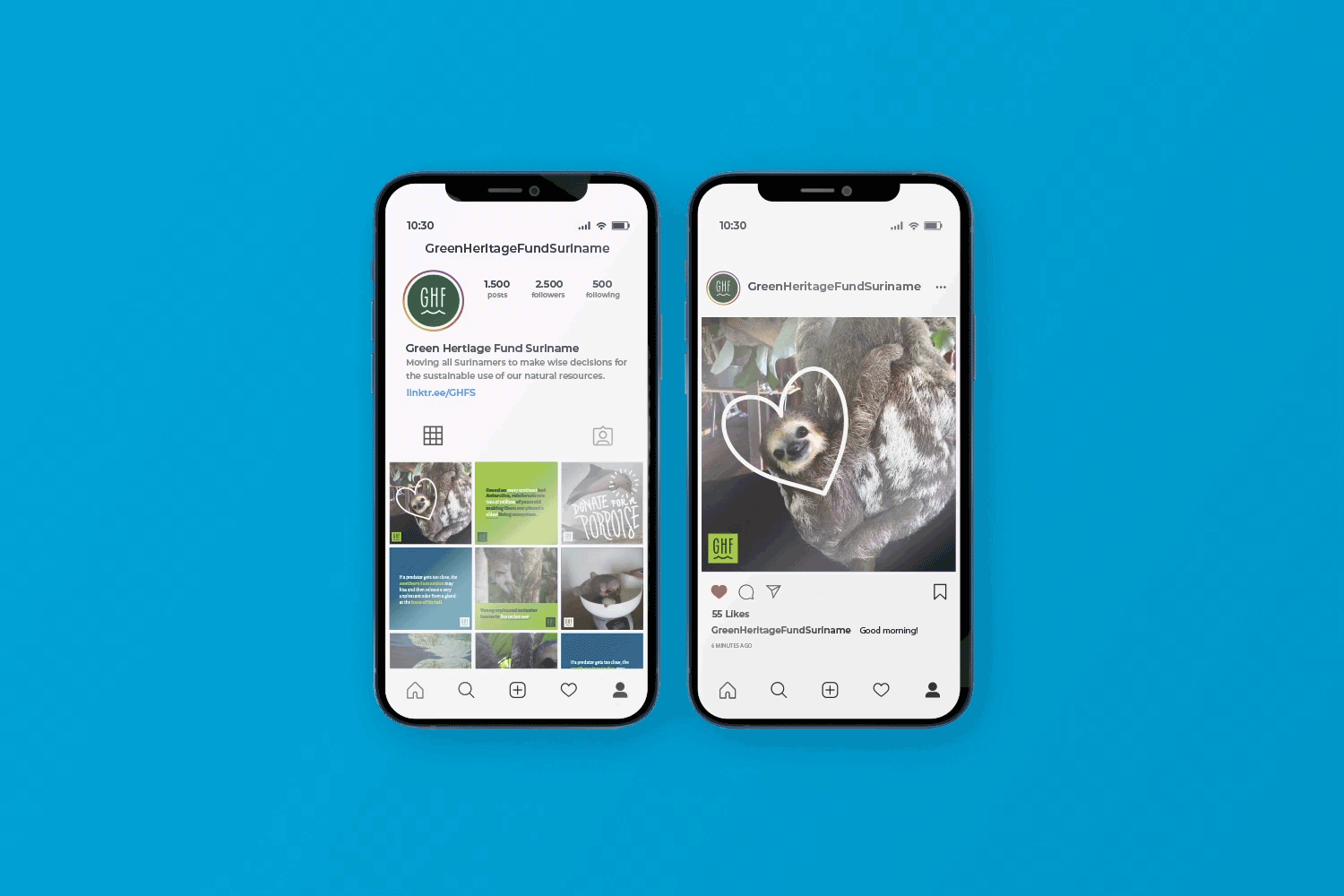 Final Result

The final result was a set of memorable and approachable brand standards that would help establish a visual identity for Green Heritage Fund. The new visual identity was created to be flexible, long-lasting, and help to visually embody and express the core values and mission of the non-profit across all media.



© Copyright Abbie Gepner, March 2021.