Philadelphia Zoo — Branding
Assignment: Parsons School of Design
Designer: Abbie Gepner
December 2019 - January 2021
Wayfinding signage designed for the Philadelphia Zoo's new identity.
The Philadelphia Zoo is the oldest in the United States. Despite the historic legacy of this institution, it has reinvented itself many times over to attract a diverse audience of visitors. The advent of its one-of-a-kind above-ground trail system for its animal inhabitants provided an opportunity for a branding system that not only emphasized this unique experiential innovation but also provided a nod to its history.
Project Goals
The Philadelphia Zoo is home to Zoo360 – a system of above-ground tunnels that allow animals to leave their enclosures and explore, giving them more opportunities to interact with their environment and more importantly the visitors. The existing branding did not reflect this innovation, so the new branding system's primary purpose is to communicate and explore this experiential concept.

Photographs showing the revolutionary Zoo360 trail system.
Explorations of expressing branding through textures.
Design Process

The Zoo360 system is a unique form of engagement for the visitor – communicating this one-of-a-kind experience was a crucial part of the updated brand. The design took inspiration from the idea that this experience is almost as if you could "reach out and touch" the animals. The texture is a visual metaphor for touch – in the new identity, the textures of the animal inhabitants from fur to scale to feathers are as much a part of the brand as the colors and typography.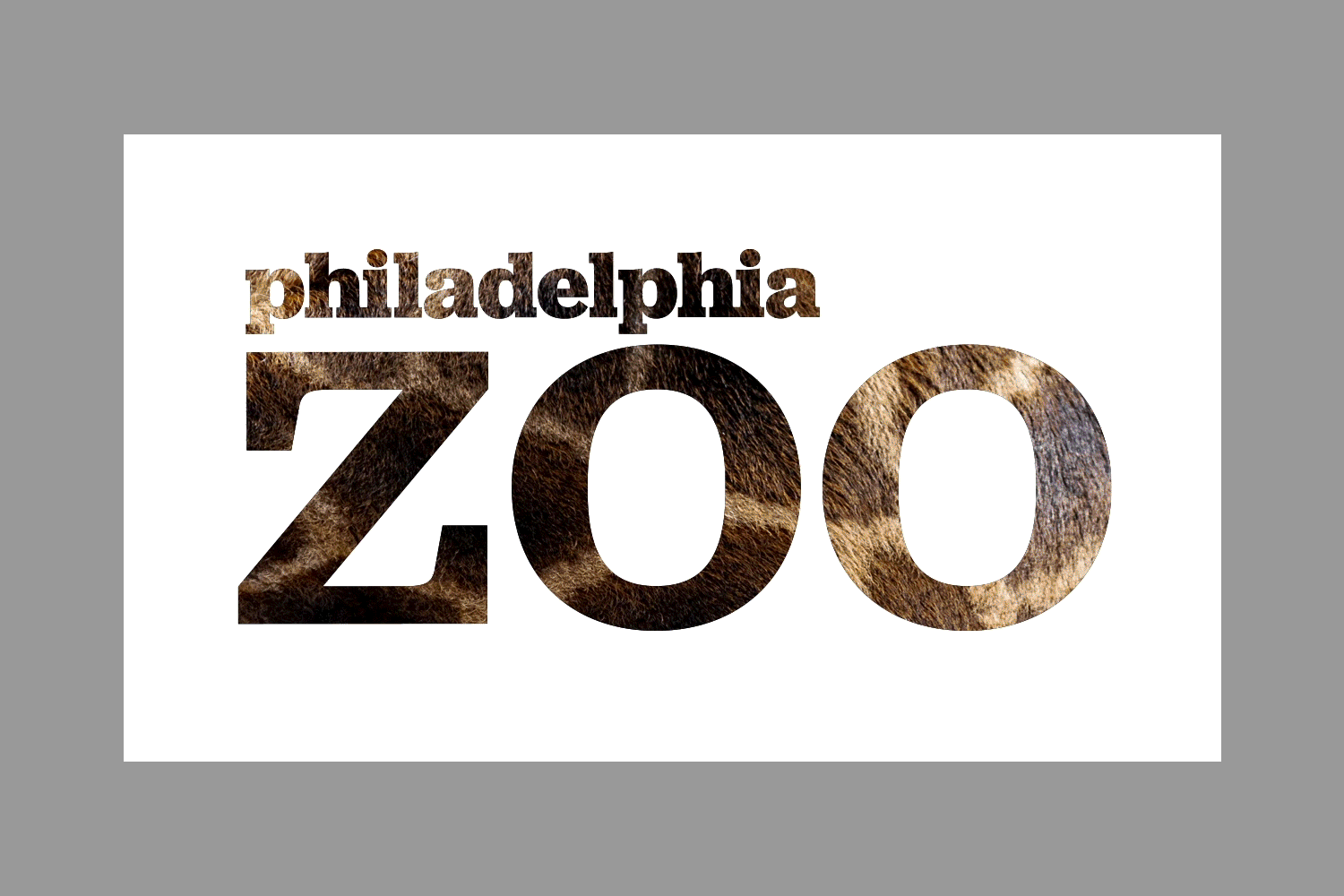 Exhibit Typography
The system also needed to communicate the intersection between the museum's history in addition to the innovation occurring in exhibit design at the zoo. The solution was to use typography that illustrating this intersection. For the typography of the new brand, Jubilat, a slab-serif that simultaneously pays tribute to the museum's past by the older typefaces it evokes while its rounded shape makes it approachable. Proxima Nova was used as the secondary font – it complements the rounded structure of Jubilat, while being friendly-looking and versatile.


Final Result

The result of the re-brand is a refreshed visual identity that sets the Philadelphia Zoo apart from other similar institutions. The combination of a brand-centered around texture as a way of expressing memorable real-life experiences is unique, innovative, and serves as a robust and versatile visual system that the Zoo can use to distinguish itself and communicate the mission of connection for many years to come.
© Copyright Abbie Gepner, March 2021.